Acceptability of and engagement with digital behaviour change interventions
I first became interested in the problem of engagement with digital behaviour change interventions when studying for an MSc in Health Psychology at UCL (2014-2015). In my dissertation, I explored patterns of users' engagement with a novel smoking cessation app, BupaQuit.
My PhD thesis (2015-2018) - supervised by Prof. Susan Michie, Prof. Ann Blandford and Prof. Robert West - comprised 6 studies and aimed to gain a better understanding of how to define, measure and promote engagement with digital interventions in general, and with apps for smoking cessation and alcohol reduction in particular. As part of this work, we conducted an interdisciplinary, systematic review and generated a two-part, integrative definition of digital engagement and a conceptual framework. We used semi-structured interviews and online surveys to develop a self-report measure of digital engagement and evaluated the new measure in two different populations. We also conducted a think aloud and interview study and a focus group study to gain a better understanding of factors that influence engagement with apps for smoking cessation alcohol reduction, in addition to a series of N-of-1 studies, harnessing smartphone-enabled daily ecological momentary assessments, to explore within-person fluctuations in psychological and behavioural variables (e.g. motivation, extent of alcohol consumption) and their associations with users' app engagement.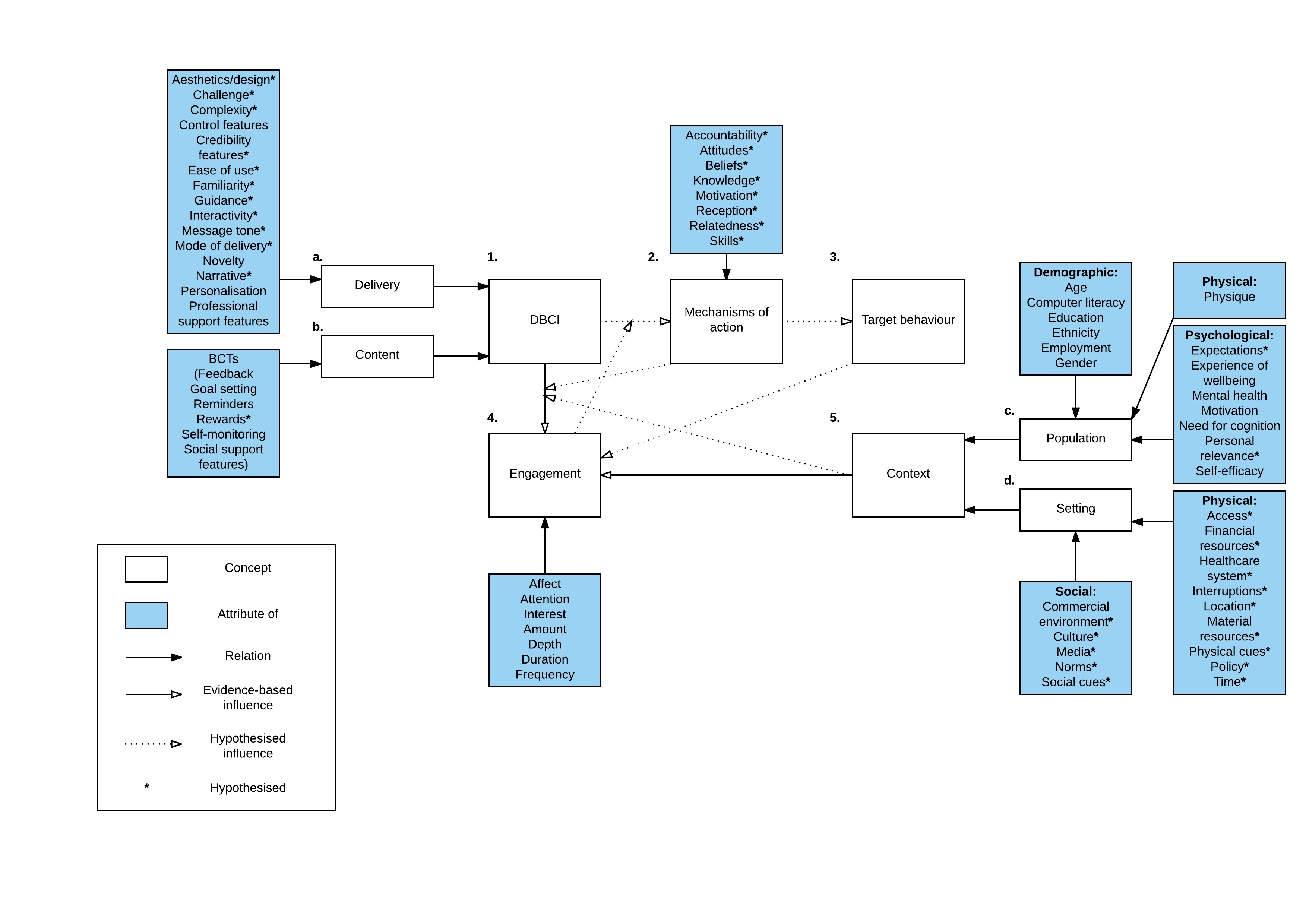 Related to this work, in collaboration with Prof. Jonathan Bricker (Fred Hutch Cancer Center) and colleagues, we explored patterns of user engagement with websites and apps for smoking cessation, using unsupervised machine learning techniques including sequence and cluster analysis. For example, we found that WebQuit users could be categorized into Disengagers, Tryers, and Committers based on their qualitatively different content usage patterns. Committers saw increases in a key mechanism of action and had greater odds of quit success.
In a piece collaboratively written with Dr. Camille Short (University of Melbourne), we reflected on the concept of acceptability in digital health research and how it relates to user engagement. We conducted a narrative review of theoretical and empirical examples from the literature. First, we argue that acceptability may usefully be considered an emergent property of a complex, adaptive system of interacting components (e.g., affective attitude, beliefs), which in turn influences (and is influenced by) user engagement. Second, acceptability is important due to its ability to predict and explain key outcomes of interest, including user engagement and intervention effectiveness. Third, precisely what people find acceptable is deeply contextualized and interlinked with prevailing social and cultural norms. Understanding and designing for such norms (e.g., through drawing on principles of user centered design) is therefore key. Finally, there is a lack of standard acceptability measures and thresholds. Star ratings coupled with free-text responses may provide a pragmatic means of capturing acceptability.
Following this work, I've become increasingly persuaded that emerging technologies (e.g. chatbots, virtual reality) and novel intervention designs (e.g. hybrid human-digital interventions, 'just-in-time adaptive interventions') have potential for counteracting the observed 'engagement crisis'. In collaboration with Dr. David Crane (architect of the Smoke Free app), we conducted an experimental study with >55,000 smokers to examine the added effect of a supportive chatbot on user engagement and short-term quit success. The results were positive, with the addition of the chatbot more than doubling rates of engagement and increasing self-reported quit success at a 1-month follow-up. Together with Alice Alphonse and Kezia Stewart (MSc Behaviour Change, UCL), we subsequently conducted a qualitative study to explore the potential mechanism(s) underpinning this increased user engagement. We found that anthropomorphism of the quick-response chatbot appeared to be enabled by its interaction style and format and users' perceived need for support, which may have given rise to feelings of accountability and increased engagement.